Refills
Product Concept
Refill Memo Pads
Your idea starts here. Enjoy the freedom to detach and use as much as you need, when you need it. Refill Memo Pads are glued on one side with natural-colored glue so you can carry them around like a notebook, or use them as individual sheets in the ring leather binders. Let your creativity flow endlessly with the design and flexibility of the Refill Memo Pads.
Refill Memo Pad (A5 Size)
Refill Memo Pad (Bible Size)
Refill Memo Pad (Narrow Size)

Refill Memo Pad (Mini Size)

Refill Memo Pad (Mini 5 Size)
Refill Memo Pad (A4 Size)
Refill Memo Pad (Card Size)
Product Concept
Notepad
A luxurious notepad with removable six-hole pages and a sophisticated cover that allows you to carry it around with ease and store it upright like a notebook. You can detach the pages easily to edit and reorganize ideas you like and place them in the ring leather binders. The edges of the pages are gilded with copper foiling to protect the pages and recreate the traditional look of old archival books.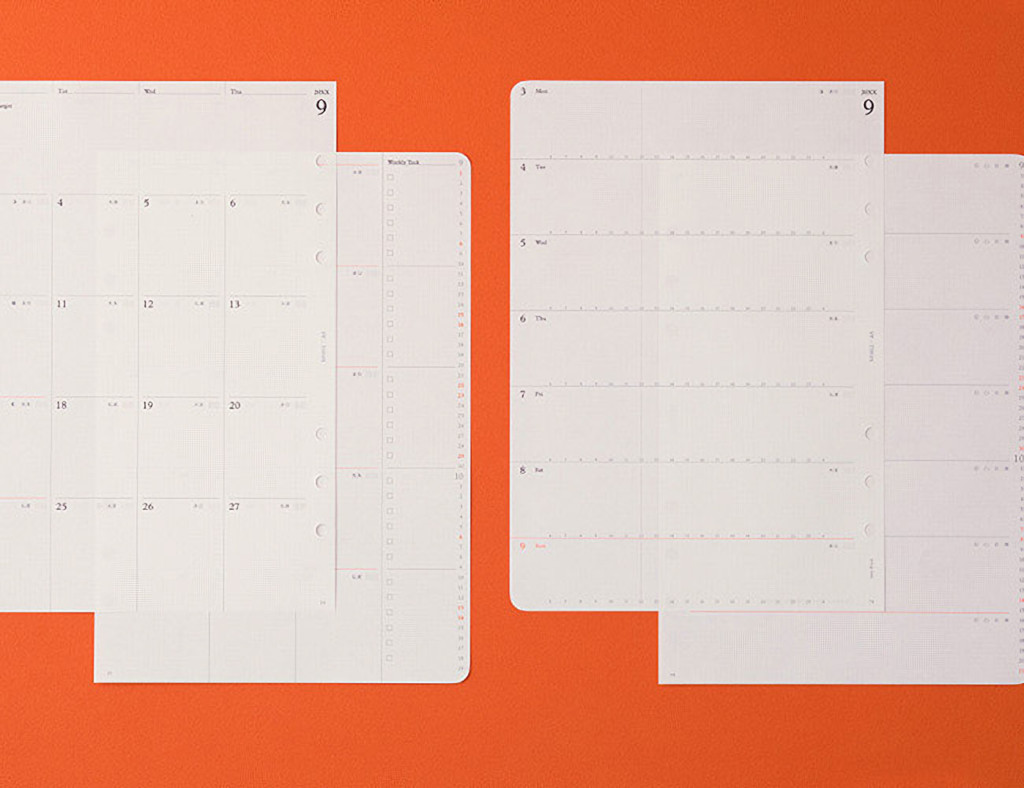 Product Concept
Diary Refill
PLOTTER Diary refills are meticulously designed to simplify the process of organizing, envisioning, and planning for the future. Effortlessly plan and manage your schedule by months or by weeks. The layout optimizes the limited space of the page size so it frees up areas for you to write without interruption. The color of the print is subtle and does not get in the way of your thoughts and notes.
Product Concept
Accessory Refill
Simple, and intuitive accessory refills that are designed to stimulate your creativity. They are thin and minimalistic tools that won't interfere with writing. The accessory refills will help you organize your written records and materials while drawing out your inspirations for the next idea. Use them together with Refill Memo Pads to expand the functionality of your ring leather binders.
Accessory Refill (A5 Size)

Accessory Refill (Bible Size)
Accessory Refill (Narrow Size)

Accessory Refill (Mini Size)

Accessory Refill (Mini 5 Size)