Thomas Edison once said, "Genius is 1% inspiration and 99% perspiration". The 99% of hard work is evident in the pages and pages of notes he'd taken throughout his lifetime of inspirational inventions.
Edison always kept a pen and notepad with him. No matter where he was, he would take notes of any idea that came to him and look back on them. He left behind a total of 3 million notes or about 3,500 college notebooks. Of these, only 1% of the ideas that shined brightly were handed down to future generations and became permanent inventions.
Leonardo da Vinci, whom Edison admired, also took notes. He left 10,000 notes, a huge number for his time. This is what inspires us to take the concept of notetaking seriously. We may not be "geniuses" like Thomas Edison or Leonardo da Vinci, but at the very least, we can follow his note-taking process and let the little flashes of daily inspiration lead us to our own creations.
Introducing PLOTTER Mini 5 Size, the smallest and most compact ring leather binder in the entire PLOTTER Line up. It consisted of not six, but five rings that make the whole binder fits nicely into the length of your palm. It's a tool just right for quick notetaking.

The Benefits of a Mini 5 Size notebook
Unless you have an exceptional memory, most people will lose almost half of what they have seen or heard in a few minutes, two-thirds in a day, and the outlines of what had happened in a week. That's why notes are so important. It is also important to write them down immediately.
Since 6 holes become 5 holes, the height of the form factor is naturally even shorter. In Europe, a pocket-sized notebook is about the size of mini size, 6-ring organizer. However, the mini 5-ring size is so compact that it can be defined as "the size of a shirt breast pocket". It is also very mobile, so there is no sense of discomfort in having it as a tool that you carry around with you.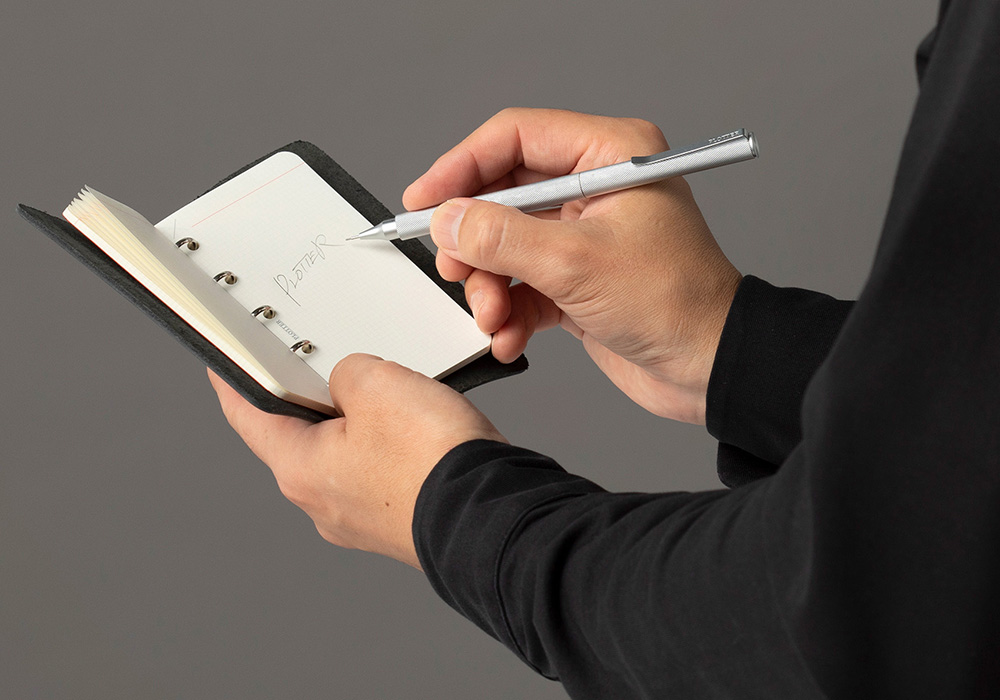 The great thing about the Mini 5 Size is that it can be tucked away in a small pocket, discreet and portable. When an idea strikes, you can take it out in 0.5 seconds to capture those fleeting moments. At the same time, it can be put away quickly when you are done.
The Mini 5 Size PLOTTER is a reliable jotter that accompanies you on all sorts of adventures. Because it is made out of a single piece of leather with a slim backplate, its form is lightweight and more compact than other pocket-size notebooks. The most important concept that PLOTTER Leather binders encourage is to remove all barriers to the motion of writing. PLOTTER's new Mini 5 leather binders and refills respond to these needs by extracting the essence of our previous products and giving shape to a new world of sizes.

PLOTTER Mini 5 Ring Leather Binder in Bridle Leather
The first leather we chose for the Mini 5 size ring leather binders is the well-known "Bridle Leather" that can be used in any weather or condition without concern. Bridle leather is tough, water-resistant leather which is derived from "Bridle", the harnesses used in the United Kingdom. PLOTTER's Bridle leather is developed in the region of Himeji, an area known for its expert craftsmanship in leather work throughout history.
The surface is smooth with a unique "bloom" that comes from the tannery technology that incorporates wax to condition the leather. The expression of the wax bloom may vary depending on the season, which makes its character even more appealing. Over time and use, the surface becomes shiny, which complements the matte silver back plate. PLOTTER Mini 5 Size in Bridle leather is available in four pastel-like hues: Black, Blue, Red, and Green. The leather is durable and scratch-resistant, and you can enjoy an aging experience that is different from any other PLOTTER leather to date.

PLOTTER Mini 5 Ring Leather Binder in Pueblo Leather
Of course, we can't miss an opportunity to showcase our iconic Pueblo leather, even in this smallest dimension. Pueblo leather is known for its dynamic characteristic over time and use. The authentic Italian leather is first scraped to create a rough texture on its surface, mimicking the natural feel of leather in its original state. The oil smooth process ensures that it retains its supple texture, which rises to the surface to transform the leather to a glossy touch as you handle it every day.
Not only is the Mini 5 Size available in the four original Pueblo colors, but a new limited color is also available for this lineup. Pueblo in a moss-like green is the quintessential expression of leather. It will deeper to a darker khaki green as you use it more. This color was first introduced in September 2021 in Japan and has been a best seller since.
We hope you can enjoy your favorite PLOTTER leather in the Mini 5 Size too!

Minimalistic refills that maximize the function of a Mini 5 PLOTTER
The lineup of refills that completes the functionality of a Mini 5 Size ring leather binder is also distinctly different from other sizes. It has been reduced to the essentials, as if to say, "This is all you need for notes!"
The lineup of Refill Memo Pads includes the "2mm Grid" and the "To-Do List". Accessory Refills that expand the usability of the leather binder include "Project Manager", "Ruler Pad", "Leather Pen Holder with Lifter", "Band with Lifter", and a "Leather Card Case".
Use it alongside your digital devices, especially when you find that the act of writing reinforces and inspires more ideas. In this modern world, you'll find that the warmth from using a pen and pocket notebook is still desirable and much more effective.
PLOTTER Mini 5 size embodies the spirit of a pocket jotter that allows you to write down ideas and take notes at any time, anywhere. Even in such a small size, we maximize the functionality while eliminating waste, freeing up space for what you need to capture.
The small size of the Mini 5 Size is a good thing, but its functionality and the ability to "write" will surely continue to stimulate your creativity in the future. We hope PLOTTER Mini 5 Size will be valuable storage for your precious ideas.